International students in Canada are allowed to work part-time on-campus and off-campus while studying, but they must follow specific regulations and guidelines. These include restrictions on the number of hours they can work and the types of jobs they are eligible for. It is important for international students to understand their rights and responsibilities to ensure they are working within the law and maintaining their student status.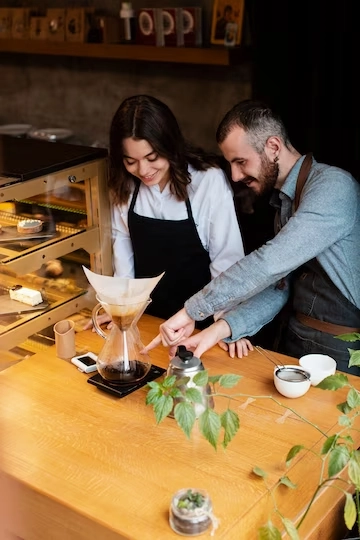 Work Conditions & Options for International Students in Canada
As of November 15, 2022, international students in Canada are temporarily allowed to work more than 20 hours per week during the academic year until December 31, 2023. This means that eligible international students can work off-campus for more than 20 hours per week. The new measures were announced by the IRCC and apply to students who have an off-campus permission on their work permit.
Workplace Protections & Strong Support
In 2023, Canada has strong support for international students working in the country. The government has lifted work hour limits for international students to help address the labor shortage in many sectors across the country. This policy will only apply to students studying full time. The previous 20-hour cap made international students vulnerable to exploitation because many ended up working longer hours without protections. By allowing international students to work more while they study, Canada can ease pressing needs in many sectors across the country
Canada has become increasingly dependent on temporary residents, including international students, to fill its labor force needs. Immigrants play a vital role in Canada's economy, and officials granted over 645,000 temporary work permits to foreigners in the first ten months of 2022 alone. To help immigrants assimilate into Canadian life, the government provides them with orientation programs, skills training, social services, and pathways to citizenship.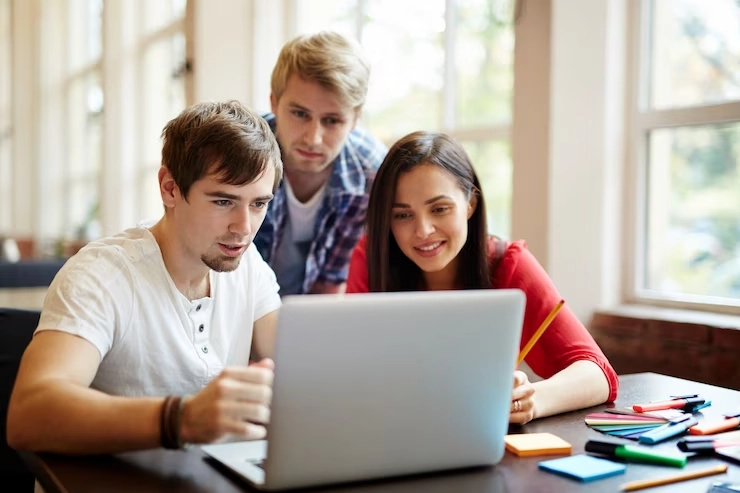 Canada offers attractive salaries and a range of benefits across various professions. Here is a glimpse of average annual salaries in different sectors:
| | |
| --- | --- |
| Profession | Average Salary Range (CAD) |
| Information Technology | $60,000 – $120,000 |
| Engineering | $70,000 – $120,000 |
| Finance and Accounting | $50,000 – $100,000 |
| Healthcare | $60,000 – $120,000 |
| Marketing and Advertising | $50,000 – $90,000 |
| Education | $40,000 – $80,000 |
| Sales | $40,000 – $80,000 |
Please note that these figures are approximate and can vary based on factors such as experience, location, and industry conditions.
Working in Canada not only offers competitive salaries but also provides a high standard of living, governmental support, excellent education, and a diverse and inclusive society.
Types of Work & Where to Find them
Canada offers a variety of part-time jobs for both undergraduate and graduate international students. Some of the most popular part-time jobs in Canada for international students include working as a server/bartender, sales assistant, barista, dog walker, teacher's assistant, tutor, freelancer, translator, and ridesharing driver. Being a teaching assistant is also a popular job for university students in Canada.
Where to find jobs in Canada?
International students can work on or off-campus without an official work permit. However, they must be enrolled as full-time students at a Designated Learning Institution (DLI) and enrolled in a post-secondary academic, vocational or professional training program or secondary-level vocational training program in Quebec to be eligible for off-campus work.
Using your network to locate a job is a fantastic strategy. In order to share the fact that they are looking for work, international students in Canada should make connections with one another. Postings on grocery store bulletin boards, college employment notice boards, and neighborhood periodicals are other sources. Foreign students looking for work should look online because many big businesses post job openings there.
Students might also try sending their application materials to an employer. These companies aid in helping people obtain part-time or temporary jobs. They can find work in Canada through various means. They can search for part-time job opportunities on online job portals such as Indeed, which has over 1500 part-time student jobs listed.
Some other major sources for job postings for international students in Canada include:
 Linkedin 

 Glassdoor

Job Bank Canada
Global Affairs Canada offers the International Youth Internship Program (IYIP) for students interested in international development. Students can also find internships in fields such as tourism and hospitality, entertainment, software & technology. The Canadian government provides youth employment opportunities and internships to help students get started on the right career path Finally, there are several organizations that offer volunteer abroad programs for students and professional nurses throughout the year.
Work Permit & Visa in Canada from Bangladesh
The process of getting a work permit and visa in Canada from Bangladesh can be fairly simple.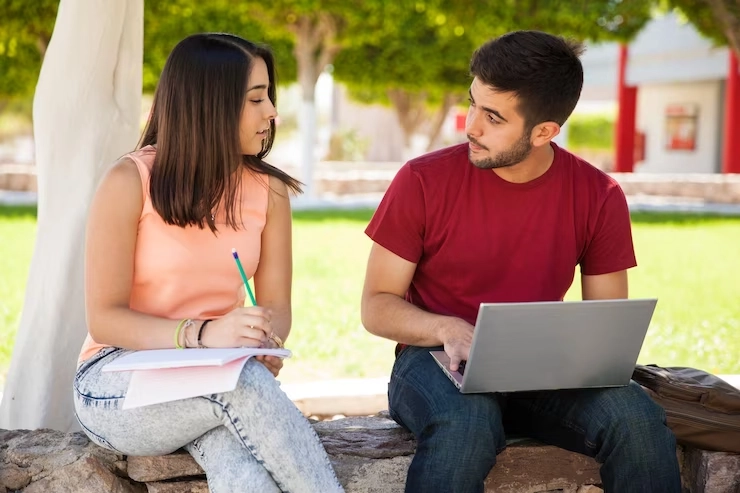 How to get Work Permit in Canada Before Graduation
To get a work permit in Canada in 2023, there are several options available. The International Experience Canada (IEC) work permit program is one such option that opens annually and allows young people from partner countries to work and travel in Canada for up to two years. Employers can also apply for a Labour Market Impact Assessment, if necessary, extend a temporary job offer, and then foreign nationals can apply for a work permit.
Additionally, eligible candidates can receive an 18-month extension to their post-graduation work permits starting April 6, 2023. To apply for a work permit, individuals can go to the "Start your application" section on the account welcome page of the Immigration, Refugees and Citizenship Canada website.
How to get Work Permit in Canada After Graduation
International students in Canada can apply for a post-graduation work permit (PGWP) before graduation. Students do not have to wait until they physically receive their diploma or attend their graduation ceremony to apply for a PGWP. They have 180 days after their school issues their final marks to apply for a PGWP. 

Eligible students can apply for a PGWP from inside Canada. A PGWP allows students to remain in Canada and work full-time after completing a certificate, diploma, or degree program that is at least eight months long. The permit is valid for between eight months to three years and is a great way to obtain valuable Canadian work experience.
Post study work visa duration in Canada
In 2023, international graduates with a post-graduation work permit (PGWP) expiring in 2023 or a PGWP that expires in 2022, even if they are outside the 90-day restoration period, will qualify for an additional 18-month work permit. This measure was announced by Canada's Minister of Immigration, Refugees and Citizenship on March 17, 2023.
 The extension will begin on April 6, 2023. Approximately 127,000 PGWPs are set to expire in 2023. The processing time for a PGWP extension application might range from 80 to 180 days.
The per hour salary for international students in Canada in 2023 varies depending on the job and experience level. The average international student salary in Canada is $60,174 per year or $30.86 per hour.
Working in Canada offers numerous advantages compared to Bangladesh. Here's a brief overview:
Higher Salaries: Salaries in Canada are generally higher across various industries compared to Bangladesh.


Governmental Support: Canada provides universal health care, social welfare programs, and support for families and individuals with disabilities.


High Standard of Living: Canada offers a safe and clean environment, excellent infrastructure, and access to quality education and healthcare.


Environmental Focus: Canada prioritizes environmental conservation with vast wilderness areas, national parks, and sustainability initiatives.


Cultural Diversity: Canada embraces multiculturalism and welcomes immigrants, fostering a diverse and inclusive society.


Educational Opportunities: World-class universities and colleges in Canada offer a range of programs and research opportunities.


Strong Employment Rights: Canadian labor laws ensure fair treatment, regulated working hours, paid leave, and other workplace benefits.



Progressive Tax System: Canada's tax system is progressive, contributing to wealth redistribution and funding public services.
Overall, working in Canada provides a higher standard of living, a supportive society, and access to governmental and environmental benefits, making it an appealing choice compared to Bangladesh.
Further Job Opportunities
Once you have gotten into the country, you can enjoy various work opportunities as an international student.
Job Opportunities after IELTS in Canada
After taking the IELTS exam, there are various job opportunities available in Canada. The scope of earning depends on the course you want to pursue and your choice of university.
Job opportunities after IELTS in Canada stretch from engineering to media, medical to business management. Some job positions that require IELTS certification include invigilator, EAP instructor, language instructor, examiner, test center officer, and CELPIP instructor.
Job opportunities for international student (after graduating)
After graduating from a Designated Learning Institution (DLI) in Canada, international students can take advantage of various job opportunities. The post-graduation work permit (PGWP) makes them eligible to temporarily live and work in Canada. Students can go for part-time jobs such as cleaning, bartending, volunteer work or live-in-care types of work. 

The Post-Graduate Work Program allows international students who have graduated from a participating Canadian post-secondary institution to gain valuable Canadian work experience. Many other graduates choose to stay and work in Canada after their studies. They can learn about how to get work experience, plan their career and pursue permanent residency through various resources available
Further Studies & Visa Issues
There is the latest Canada immigration news about studying as an international student in Canada along with scholarships and study permits. Canada is expected to receive up to 753,000 international students in 2023. However, the Canadian government has implemented additional requirements for international students who wish to obtain a study visa.
 It is important for students to follow the step-by-step process when applying for a Canada study visa. Non-university-educated international students may face unique disadvantages when it comes to immigration unless they combine their studies with work experience.
international students can work up to 20 hours per week. Working more than 20 hours per week is a violation of their study permit conditions. They can lose their student status for doing this and may not be approved for a study or work permit in the future.

However, eligible full-time international students without a work permit are exempt from the requirement that they work no more than 20 hours off-campus.

In October 2022, Canada removed the limit on off-campus work hours for international students during their academic term. As of November 15, 2022, international students in Canada are temporarily able to work more than 20 hours per week during the academic year.

If an international student's presently-valid study permit expires between November 15, 2022 and December 31, 2023, they will only be eligible for the temporary increase in work hours if they apply to extend their study permit before it expires.
Eligibility Criteria for work as Bangladeshi Students
Here's what you will need to work as an international student in Canada
They must have a valid study permit, be a full-time student at a designated learning institution (DLI)

Be enrolled in an academic, vocational or professional training program that leads to a degree, diploma or certificate that is at least six months long

Eligibility criteria for working in Canada after graduation include being an inside or outside Canada graduate and having a valid passport. 

A birth certificate and national identity card are also mandatory for study visas in Canada for international students
Besides extending the number of hours the students can work in Canada, the government of Canada has also extended work permits to family members of temporary foreign workers. A student visa gives international students the ability to stay in Canada for more than six months and obtain a permit to work. It is important for employers and institutions to respect the legal rights of international students working in Canada.
You will have many options to work as a student in a variety of fields as an international student from Bangladesh studying in Canada, and you will be treated the same as all other employees in Canadian businesses. Unlike before, students are now permitted to work more than 20 hours per week thanks to the government's relaxation of regulations.